Snake Island and its fascinating and mysterious secrets
by
| VIEW 6487
The island of Queimada Grande, nicknamed the island of snakes, is an island of 430,000 m² located 35 km from the city of Peruíbe in the state of Sao Paulo, Brazil. It is the only habitat where the snake Bothrops insularis is present according to the Smithsonian Institute, the island is home to between 2,000 and 4,000 venomous snakes on an area of ​​only 430,000 square meters.
For years the only inhabitant was the lighthouse keeper, as the attempt to plant a banana crop on the island in recent decades has failed. Currently the Brazilian government allows access to the island exclusively for research purposes, due to the high density of poisonous reptiles present on the territory.
In addition to the presence of a large number of Bothrops insularis, there are insects, lizards and birds on the island. There are no mammals. Due to the rising sea level, the island was abandoned by the inhabitants. Snakes have since begun to thrive more and more.
At ground level, these reptiles have no prey, which is why they have to climb trees and attack migratory birds. The island was previously inhabited by 400,000 snakes Over the years their numbers have obviously decreased in the absence of prey.
The Brazilian government strictly controls entry to the island, and agrees to disembark people only with special permits.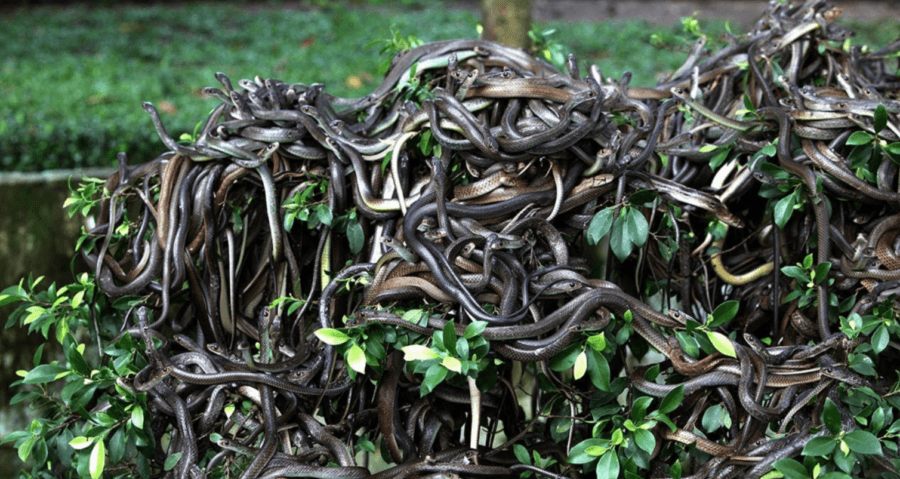 Australia: Kangaroos beaten to death by two teenagers
In Australia, precisely in Batemans Bay, a new horrible abuse against poor animals has occurred: two young 17-year-olds in fact beat 14 giant kangaroos to death.
The two boys have been arrested and will be tried by a juvenile court on charges of beating the animals to death. Among the dead kangaroos also two puppies. On Facebook the wildlife organization Wires wrote: "WIRES, its community of carers & supporters are saddened by the news of events in Batemans Bay on Friday night resulting in the deaths of 15 Eastern Gray kangaroos, including two joeys across two separate locations.
It is a tragic and senseless act that has left an indelible mark on our dedicated Mid South Coast branch volunteers who attended the scene, as well as the local residents. A single surviving joey was located nearby on Saturday morning by a member of the public.
She has been aptly nicknamed 'Hope' and is now in care with local WIRES member Shelley. We will continue to update you on Hope's progress. We thank the community for their efforts in reporting and assisting Police with their investigations into this incident.
" According to what emerged from the investigations, only a puppy would have been saved and is now out of danger of life.